Dali: Liquid Desire
.
We went last Wednesday and my recommendations are:
Buy your tickets online there was a huge queue;
Hold off seeing it for a bit longer because you're pretty much queuing for the whole show, waiting in line to see stuff.
Patience is a virtue and you will need it. Unless you're like me and pop your glasses on, cut in when something grabs your eye and take them off again, plonk yourself right in front of it to drink in every detail, because goddamn it I want to see it properly now I've forked out $23. I want to see the legs on the ants and every little line he drew.
Good show though unfortunately I had already seen more in Spain and that's hard to live up to especially since there was so much installation art over there. My favourite jewellery piece,
The Royal Heart,
wasn't brought over due to its fragility and is represented by a looped video instead. I can't help but feel some of the best stuff wasn't included. That's probably because my memory of where I saw something
in Spain
is a bit befuddled and it wasn't part of the
Fundació Gala-Salvador Dalí
collection. Being a culture vulture, I visited the best museums Spain has to offer and there's a pleasing quantity and quality of Dalí . I've probably seen more Dalí than any of my friends and acquaintances.
A little gripe I have is that the first gallery's traffic flow continues to be a bottle neck. The other galleries allow a freer flow of viewing that allow you to get a little bit lost but in a nice way, despite the overall linear path of the show. Reader, has it been like this for every Winter Masterpiece show at NGV International? I don't know because this is only the second one I've been to but it happened last year at the Art Deco one as well and it wasn't as crowded.
I was left intoxicated and numb by the art at the end. I couldn't say whether it was good or brilliant. I had to go away and think about it: a little of both due to lack of freedom to drink it all in properly. Nonetheless it is definitely worthwhile. I was awed in person by works I haven't seen before including the small and meticulous portrait of Gala with lamb chops, the photography, and disintegrating atomic series. I loved Destino. If only it were longer [sigh].
Not sure how long this will be allowed up, so savour it while you can.
Now on at the NGV is
Lime and Soda
mixed media, framed sculpture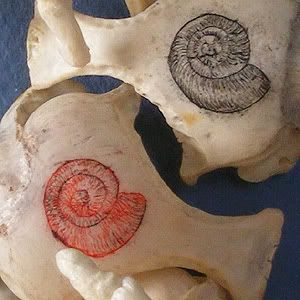 Lime and Soda
, detail showing
scrimshaw
Lime and Soda
is about how the increased amount carbon dioxide in the atmosphere affects our oceans. The ocean naturally absorbs carbon dioxide but if it continues to absorb at the current rate we will see acidification. This affects the entire ocean food chain from the tiniest creatures upwards due to the negative affect on seashell integrity. The scrimshawed, seagull craniums depict a carbonic acid molecule and the degradation* of a seashell in simulated, acidified ocean water.
Slide Rules Have No Place At My Party.
An exhibition of small scale sculpture and other media.
Curated by Monica Zanchetta.
Opening July 17th, 6-9pm
17 to 31 July 2009
Brunswick Arts Space
2a Little Breese Street
Brunswick, Australia
Gallery Hours: 12-5 Thursday to Sunday
*Based on photographs from National Geographic, 2007. Click for further reading
This is one of several of my new, sculptural works that will be featured at Brunswick Arts Space.
The above is my favourite piece from
a solo show by Sam Leach
. Leach's skill is extremely disciplined, his art detailed, his compositions strong. His pieces are small so no area of the artwork can be neglected of a fine finish. I also like how they are coated in resin. * Shiney * It was definitely worth the trip across town. Anyone looking to invest in art would do well to buy one of these I think. Leach also has a piece in the Archibalds, and recently in the Antipodean Curio Cabinet at Counihan Gallery next to Brunswick Town Hall.
On until the 27th. Click link for further details.
SCHMUCK 2009 will feature the work of 60 jewellery designers chosen from a field of 600 entries from 123 countries. The finalists include three Melbourne jewellers
Professor Robert Baines, Laura Deakin and
Julia deVille.
For lovers of contemporary jewellery, this is not to be missed.'
Linky link link
'SCHMUCK 2009 – The world's most dynamic contemporary jewellery exhibition will come to the RMIT Gallery from June 5 – July 18 this year. It is the first time this prestigious exhibition will be shown in Australia and only the fourth time it has been shown outside Munich in its 50-year history.
5 Elements Water is an ikebana installation in the garden at NGV International. Looks like it's worth checking out. On until July 26

Persuasion:

Fashion in the Age of Jane Austen
22 May - 8 November 09
Myer Fashion and Textiles Galleries, Level 2
Free entry
Coming very soon Dali!
Hand Held Gallery
in the city. It's an unexpected, small but well utilised space that's thoughtfully presented. The focus is on art that is small enough to hold in your hand. The staff are very friendly. There is a shop section of art for sale, a little bit like a mini version of what Craft Victoria does in a fraction of the space.
The current exhibition of Melbourne artist and writer,
Paul Compton
's book format zines and water colours was a delight to behold. Take the time to pop on the white cotton gloves and enjoy every page of his zines/'mooks' Fallacies on Parade and Everyday Tragedies. Compton's sense of humour is deliciously black. His artistic technique is perfectly matched to his prose.
Everyday Tragedies reminded me a little bit of Tim Burton's
The Melancholy Death of Oyster Boy
through its small format, fine pen and brush work, look at morbity and social acceptance, and dark humour. This is not to say it's derivative at all. Rather, that if you enjoyed that you should enjoy this! Compton's prose is elegant and his art has a muted colour scheme, while Burton's poetry is more singsong with a loose drawing style, occasionally highlighted by acid bright colours.
Highly recommended. Seek this gallery out, it's worth it.
This afternoon I visited the relatively new (less than a year old)
Current Mood:

cold
aRtECYCLE
'An exhibition of outdoor and indoor Ephemeral Sculptural Installations will take place at the Walter Burley Griffin-designed Incinerator Arts Complex in May 2009.'

From 60 artworks by 45 artists, 27 pieces were selected.
I have an indoor sculpture in this show.
Check it out, it should be fun!
13-24 May 2009
Twilight OPENING : Thursday 14 May 2009, 6-8pm
Open Hours: Wed-Sun 11am-4pm
Incinerator Arts Complex
180 Holmes Road, Moonee Ponds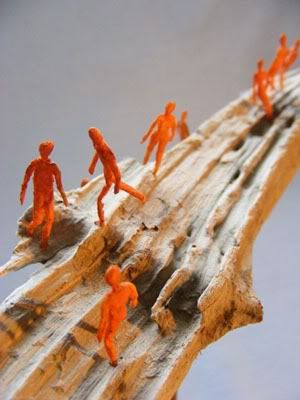 Slice, detail
mixed media
2004
About the competition:
'aRtECYCLE is inspired by the extraordinary architectural, philosophical and spiritual influences of Walter Burley Griffin and his collaborator Marion Mahony plus the significance of the venue's history as an incinerator using the reverberatory system of waste disposal.
Works must engage with the principle themes that inspired Walter Burley Griffin and Marion Mahony :
~ Anthroposophy
~ Transcendentalism
~ Environmentalism
~ Recycling
Works may be pre-existing, but must be made of, or inspired by, waste, wreckage, recycled materials .. '
aRtECYCLE INQUIRIES & ENTRIES
Incinerator Arts Complex
180 Holmes Road, Moonee Ponds 3039
p: 8325 1750
Kate McPhee
e: kmcphee@mvcc.vic.gov.au
p: 8325 1750
Current Mood:

restless
Off the Kerb
, artist run gallery and studios is celebrating its 2nd birthday with a show exploring the theme of obsession. My submitted sculpture - Switch Off to Switch On - was accepted for this exhibition! My piece deals with a well known scientific obsession with intelligence, and was also created a little obsessively - so many carefully selected and snipped pieces make up the collaged section.
The OCD Show at Off the Kerb
April 3-24
Opening hours are Thurs & Fri 12:30pm-6pm, Sat & Sun 12-5pm
Opening night is Friday 3rd April from 6-9pm
66B Johnston St, Collingwood, 3066
info@offthekerb.com.au
If you can't make it
check out some of my other art here
.
I enjoyed visiting both NGV venues this afternoon: I
highly
recommend the Bugatti show at NGV International! All exhibitions
currently
on are free so there's no excuse for any art and design loving Melbournian, not to make the time to see both this and the other shows.
Bugatti: Carlo Rembrandt Ettore Jean
features Rembrandt's lively, evocative animal bronzes; an automobile each by Carlo and Jean; unique, unusual and beautifully crafted furniture by Carlo. As far as talent goes they were world class - it's remarkable to have so much creatively and ability in one family. I think my favourite piece would be Carlo's assymetrical, throne seat which is part of the NGV collection. There's a touch of steam punk about that and some of his other pieces.
The Satirical Eye: comedy and critique from Hogarth to Daumier
, a must for anyone who appreciates vintage satire and etching. Features a number of prints by Goya from his series
Los Caprichos
.

The cricket and the dragon: Animals in Asian Art
is aimed at getting children interested in art so be prepared to squat and crouch a lot in order to see most of this show properly. Other than that small grumble and inconvenience for the rest of us, there are some superb examples of Asian craftsmanship and artistic technique. The poster critter - literally - for this exhibition is a copper alloy, life sized rat holding a chestnut. He's gorgeous, I want him! There's a lifelike crab also made in copper alloy and Japanese but a slightly later period and not apparently by the same artist.
Don't miss the smallest pieces tucked away behind tiny windows, inset in a graphic panel between each of the main showcases. Some of the best stuff is there. Exquisitely carved Japanese netsuke*, and finely glazed snuff bottles will make that awkward stooping worth your while!
One of the netsuke on display seems to have been inspired, or been inspired or is a typical depiction of quails,
very similar to one in the V&A collection
*. This one is cuter, rounder and sweeter. Their eyes are shinier [grabby hands].
Magnifying glasses are there to encourage kids to appreciate the details but for those of us who are long sighted I expect they could come in handy for some of those tiny pieces!
Remaking Fashion
was okay but not my cup of tea and held nothing that really excited me. I continue to be frustrated by the recessed showcases and lack of visibility they afford. Fashion isn't designed to be viewed from one specific angle but 360 degrees. The strategic use of mirrors perhaps, and an extra freestanding showcase would help.
*I've always sought this type of carving out every since seeing my first
netsuke at the Victoria and Albert museum in London
back in 1997. I love how compact, detailed, and full of character they can be.
Came across these via the